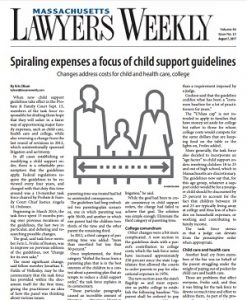 Jonathan Fields, one of four private attorneys appointed by Chief Justice Paula Carey to the Massachusetts Child Support Guidelines Taskforce was quoted in Massachusetts Lawyers Weekly in an article about the new Child Support Guidelines.
When new child support guidelines take effect in the Probate & Family Court Sept. 15, members of the task force responsible for drafting them hope that they will usher in a fairer way of apportioning major family expenses, such as child care, health care and college, while also reversing a change from the last round of revisions in 2012, which unintentionally spawned litigation and acrimony.
In all cases establishing or modifying a child support order, there is a rebuttable presumption that the guidelines apply. Federal regulations require the guidelines to be reviewed every four years, and charged with that duty this time around was a 13-member task force chaired by Probate & Family Court Chief Justice Angela M. Ordonez.
Beginning in March 2016, the task force spent 15 months poring over previous iterations of the guidelines, the last two in particular, and debating and researching possible changes.
The goal, said task force member Fern L. Frolin of Boston, was to improve on previous editions of the guidelines, not "change for its own sake."
The most significant change, said fellow member Jonathan E. Fields of Wellesley, may be the commentary that the task force has provided within the document itself for the first time, giving the practitioner an idea of how the panel was thinking about various issues.
Beyond that global change, however, there are also some important details. The full text of the 20-page guidelines can be found at masslawyersweekly.com.