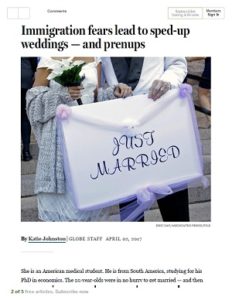 What is a "Trumped-Up-Prenup?" Attorney Vicki L. Shemin was quoted in the Boston Globe explaining why she coined the phrase for weddings expedited because of immigration. According to the Boston Globe, there has been a 20 percent increase in marriage licenses filed in Boston between November and March. The couples The Globe talked to were open about their fear of Trump's immigration crackdown as a motivating factor in speeding up their marriages.
When weddings are expedited there can be issues with rushed prenups that may not stand up in court later, and these prenups can even interfere with the immigration process if a marriage is deemed not legitimate because a couple has decided to have separate finances. Attorney Shemin shared her experience of this phenomenon with the Globe:
Vicki Shemin […] coined the term "Trumped-Up prenup" after two clients approached her in the same week about quickly drafting prenups to accommodate wedding dates that had been moved up because of immigration concerns.
"Negotiating a prenup in just a few weeks instead of over several months, as is usually the case, can be tricky," Shemin said, "and if it's proven to be done under duress, the agreement won't hold up in court."
For more on the article click here. For more about Fields Dennis & Cooper LLP Partner Attorney Vicki L. Shemin, please follow this link to her bio .